26th June 2018
Yorkshire Tea National Cricket Week
Posted in Cricket.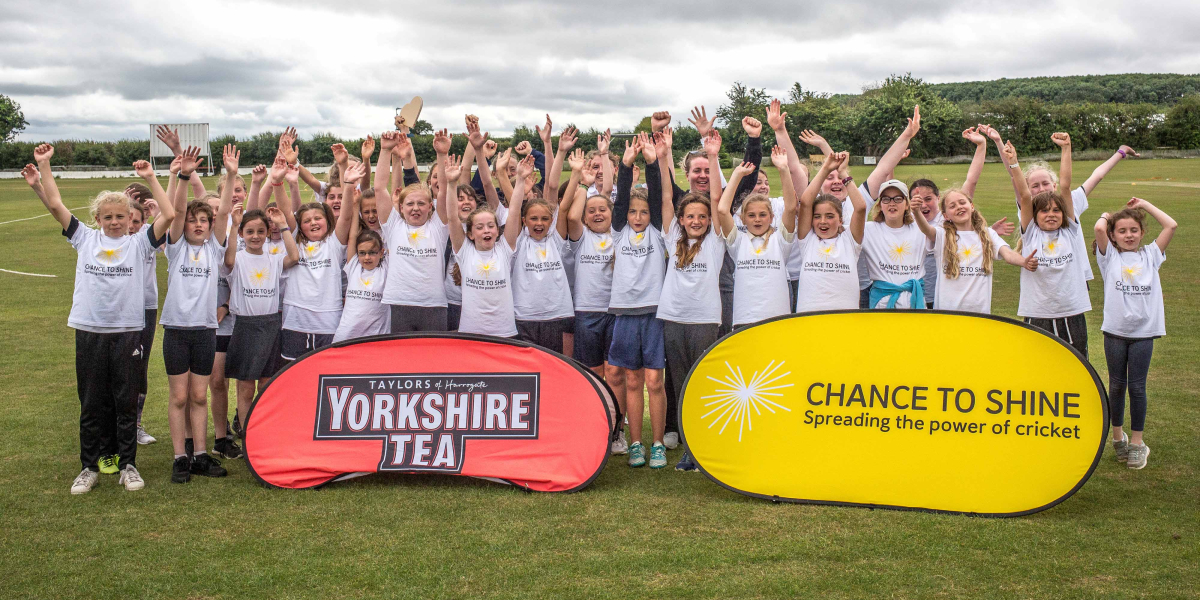 It's our fifth year partnering with grassroots cricket charity Chance to Shine, so this year's Yorkshire Tea National Cricket Week was extra special.
Taking place from June 18-22, thousands of children took part in our celebration of cricket – with hundreds of events and activities hosted by schools and communities across England and Wales.
For the fifth year running we took to the road with the team at Chance to Shine to host flagship events as various cricket-mad locations.
On Monday, England cricket star Chris Woakes joined us to surprise students at Jesse Gray Primary School in Nottingham. He led a cricket-themed geography lesson followed by cricket drills in the school field.
We headed to Bristol on Tuesday to host a Girls' Cricket Festival (that's the photo at the top of the page). Fran Wilson and Beth Langston from England's victorious 2017 Women's World Cup inspired girls from four local schools at Frenchay Cricket Club.
The sun shone on Wednesday as the legendary Graeme Swann discovered tape ball cricket with a team from one of Chance to Shine's young adult street cricket programmes in Coventry. The competition saw three teams from Coventry and a side from Birmingham-based projects go head to head to be crowned the best of the West Midlands.
On Thursday, friend of Yorkshire Tea and former England Captain Michael Vaughan hosted an MCC Spirit of Cricket Assembly and coaching session for children at Cestria Primary in Chester-le-Street, Durham.
And we finished the week in style just outside of our hometown of Harrogate for a Festival of Cricket with over 150 children from nearby Spofforth and Follifoot Primary Schools. We were joined by Yorkshire Post Head of News Paul Jeeves who talked to children about what it's like to be a journalist before heading down to Spofforth Cricket Club for an afternoon of fun drills with former England wicket keeper Matt Prior.
Thank you to all the amazing schools and communities who hosted events and activities during National Cricket Week 2018. We think it was the best yet!
You can find out more about Chance to Shine here.